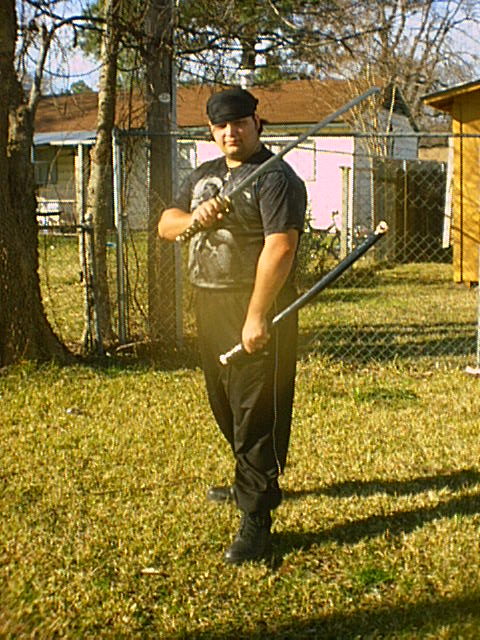 GENERALS
My name is Chris. I'm 32-years-old (as of Aug 2014). I live in Louisiana in the southern Unites States. I'm a professional web designer and programmer for a local web design and hosting company. I drive a Chevy Cobalt and stay out of trouble.
INTERESTS
I love all kinds of music. I have everything in my collection from instrumentals to Opera and Classical to Techno. Some of my music is even in foreign languages: Swedish, Japanese, German, and others. I also enjoy anime of various genres: action, fantasy, comedy, and more.
I also enjoy some online gaming. Presently, the only games I play is Archeage (Calliel, NA), Minecraft, and League of Legends. Archeage is an MMORPG with elements of castle siege/defense, boating, and pirating. Many of my best friends also play this game, so this is the mode of entertainment we prefer to have a good time together.
I have some experience in martial arts. I prefer kendo and some forms of Asian disciplines. I'm also a collector of swords and blades from various cultures. My preferences generally include Asian long swords and any European heavy blades (the bigger, the better). Apart from this physical activity, I also enjoy biking to work when the weather permits.

I'm a bit of a science nut. I enjoy reading about biology, philosophy, economics, technology, and various other intellectual topics that would probably put other people to sleep. I'm a fairly decent public speaker, albeit an aggressive debater. Some of my favorite science speakers include Peter Hadfield, Aron Ra, Robert Sapolsky, Dr. Ken Miller, and many others. I also enjoy occasional books and lectures by Douglas Adams.

HISTORY
I was raised in Jonesboro, LA where I grew up. I got my first computer sometime in mid 1998, just before Windows 98 started coming out on all new PCs, so I had Windows 95 starting off. I was immediately hooked on the Internet from the first time I heard a modem dial in to an ISP. I spent more time on that computer than anyone else in my house. I was browsing sites and wondering how all of this stuff worked. I started viewing source code and making local HTML sites on our home computer. I became so good at fixing computers that my high school computer lab teacher would have me fix the school's computers instead of doing it herself (for extra credit, of course).

After high school, I immediately joined the Navy. I wanted a job working with computers, but the Navy felt otherwise. I became a postal clerk instead. I was stationed on the USS Spruance (DD-963) for part of my 4-year term and was later transferred to the USS John F. Kennedy (CV-67) where I finished the remainder of my service. I served in Operation Enduring Freedom which occurred just after 9/11.

Once out of the military, I moved back to Louisiana and continued my education in computer repair and web programming. I worked for a few computer repair services. I launched a few websites, but none really went far. I did, however, gain a lot of hands-on experience in PHP and MySQL databases as well as Javascript. I was hired in 2006 by a local web software development company, Bandwise LLC, as a programmer which is where I continue to work today.

While working for my current employer and going to school at a local community college for my Associates degree in Web Design, I worked on my own PHP-based content management system, dubbed "Majicko." In Febuary 2008, my employer came to realize the potential of my product and purchased the rights to it. My product has made hundreds of thousands of dollars for my employer to date and I have recently launched Majicko v2.3.0 under the online hosting service, Instysite.com.

I completed my associates degree in 2010. Eventually, as the opportunity presents itself, I will go on to pursue my bachelor's degree next.
OTHER FACTS

Martial Status: Single

No kids


Don't smoke

Don't drink

No arrests

No health problems

Owns 1 cat